-
FLOWELL INTERACTIVE LIGHT-EMITTING MARKING
Flowell is an interactive and dynamic light-emitting road marking system that boosts the awareness of both drivers and pedestrians alike. It enables roads and streets to be better shared between the various users. Light-emitting road markings enhance the safety of all users by addressing the right signal to the right user at the right time.
Flowell works around the clock, significantly enhancing the visibility of markings both at night and when overcast. Flowell panels are equally visible during the day when activated. Thanks to their high contrasting dark finish when not in service and a high luminous flux when illuminated. Independent surveys of several projects have measured high levels of both acceptance and understanding. As a consequence, effectiveness and impact on drivers is high, notably better compliance in terms of markings and priority rules signage along with increased awareness and a reduction in risky behaviour.
In 2022 Flowell was awarded the official JANUS Design Award. Such evaluates, on an annual basis, noteworthy products, services and architectural infrastructure by taking the following five key aspects: economics, ergonomics, aesthetics, ethics and finally, emotion into consideration. The jury particularly appreciated the adequacy and effectiveness of Flowell as a means for both modernizing existing infrastructures and saving energy in the context of changing urban mobilities. Being based on a relevant study of use cases to provide an adequate and adaptable solution, the system has proved to be highly successful. Interactive light-emitting road markings give shape to the way in which smart towns and cities are managed. Through harmonious urban management, comfort and safety are brought to the users.
Flowell, enlight the moment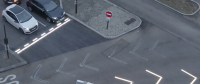 Tested by Destia : dynamic road markings withstand harsh Finnish winters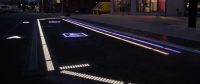 Flowell, enlight the moment in Brooklyn with a dynamic light-emitting road marking system!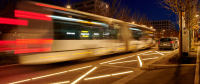 Flowell, enlight the moment with an interactive light marking in Saclay !
Visit