-
OUR OFFERS
Flowell is an innovative Colas Group system. It increases the visibility of road markings in order to improve pedestrians' safety when crossing. It also enables roads and streets to be better shared between the various users: pedestrians, PRMs, cyclists, motorcyclists, cars, vans and buses.
Flowell is the only system with traffic-resistant driveable large-size panels. The panels can be produced in all manner of forms and colours: from simple rectangular to complex symbols, letterings, arrows etc.
The dark versions are those that are most frequently used. The panels are dark (same colour as the roadway) and are therefore barely visible when turned off. When the LEDs are ON their light creates a contrast with the dark colour, making the Flowell panels more visible.
White versions of the panels can also be supplied. They are covered with white reflective paint and are permanently visible. When the LEDs are turned OFF they resemble conventional road markings. When the LEDs are ON the markings are backlit thus making them even more visible.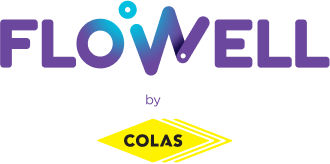 Pedestrian crossing
Pedestrians, cyclists and motorcyclists are the most vulnerable road users; they make up about 80% of road fatalities in dense European urban areas. In Europe, more than 57000 pedestrians are killed annually, the vast majority of them are on or within 50 meters of a pedestrian crossing.
Flowell aims to encourage users to be more compliant with traffic rules by increasing the visibility of road markings. Flowell makes pedestrian crossings more interactive, more visible and safer. The light-emitting road markings are dynamically controlled and activated by the presence of pedestrians when they are on the point of crossing.
Flowell pedestrian crossings are an effective solution to calm traffic at key locations: urban black spots, multi-modal intersections, poor visibility areas, schools, etc.
Uncontrolled crossings (activation with motion cameras), This pack includes :
12 or more Flowell panels for the crossing
6 to 8 panels for the Give Way markings or advanced stop line (if applicable)
1 Flowell controller unit
2 motion sensors (optional)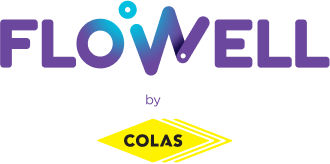 Bicycle crossing
Cycling is an increasingly popular trend. Temporary and permanent cycle lanes have been created and intersections have needed to be re-designed. Every year in the EU nearly 30 000 cyclists are killed or seriously injured, usually because of a collision with a vehicle (78%) and intersections remain high-risk spots (47% of collisions).
Flowell cycle crossings can alert drivers to the presence of oncoming cyclists at intersections.
As a cyclist approaches the crossroads a detection system is automatically activated. An illuminated Flowell cycle logo shows motorists where the cyclist is coming from.
The key benefit is that motorists are automatically shown where the cyclists are.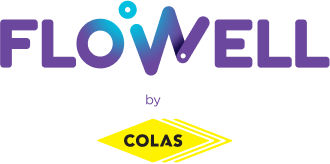 Dynamic Warning Signals
Flowell technology is also used for displaying dynamic warning signals. The warning symbol is made up of Flowell panels (dark version) and is only visible when the system is activated, either by a speed radar or a motion sensor.
Quote within 72 hours for a standard configuration
Supply time: 5 to 6 weeks except in exceptional cases (component shortage, third-party delays)
Duration of works: A maximum of three days.
Total time from the initial request to final delivery: approximately two months
Annual checks are required to ensure that the system is functioning properly (panels and electrical cabinet).
Typical consumption of a detection equipped Flowell pedestrian crossing (uncontrolled crossings, 1,000 triggers/day) is equivalent to that of a 100W lamp post.
Consumption doubles to the equivalent of two 100W lamp posts when linked to traffic lights (controlled crossings).